Background
The forests of eastern Australia are considered a world biodiversity hotspot, making their restoration of crucial importance.  Seed-based restoration involves sowing a seed mix of different plant species to re-establish cleared plant communities and is often used in areas where site factors such as access or other constraints preclude revegetation.  When using seeds for restoration, it is important to study the biology and ecology of the selected species to understand the different approaches needed to achieve effective germination, and what biotic and abiotic cues are required to trigger this event. Besides overcoming seed germination issues, it is critical to create a favourable micro-environment for seed germination and seedling establishment, if seedling recruitment is to be maximised. This would help reduce seed losses by overcoming seed germination constraints and ensuring maximum efficient use of resources, which are often limiting in large-scale restoration projects.
The site to be restored in this study is part of the regional ecosystem (RE) 12.9-10.2. It supports 175 woody species and 59 ground species (Ryan 2012). The ecosystem has been heavily degraded, such that floristic diversity and habitat structure have been reduced, simplified or destroyed. Moreover, ecosystem functions have become compromised (such as species biodiversity and vegetation structure), and successional pathways have been halted and/or deflected, making it potentially impossible for the ecosystem to recover to pre-disturbance states naturally. To restore this site, abiotic and biotic thresholds needed to be managed.
Aims
To study seed germination ecology of the selected native species to understand what cues are needed for a successful germination
To test a range of site preparation and seed application treatments to improve the initial phases of seed-based restoration (i.e. to enhance seed germination and field emergence).
To compare the use of topsoil and no topsoil to help ameliorate the abiotic soil constraints that influence seed germination and seedling emergence
To assess the impact of different site treatments in creating different germination environments by either using hydrocompost or a cover crop on the seed germination and field emergence
To investigate whether seed cookies, laced with germination enhancing chemicals (potassium nitrate and smoke water), could improve seed germination and field seedling emergence
To identify which combination of treatments is the best approach to restore a degraded study site
Methodology
Six locally adapted native species (three Poaceae, two Fabaceae and one Asparagaceae) were selected to create a multi-species perennial seed mix.
Seed germination under different environmental conditions (light and temperature) was tested in the laboratory using a thermogradient bar.
Seeds were either left untreated (control) or incorporated into seed cookies after being primed with germination-enhancing chemicals.
A split-split plot design was created in the field, with different soil, site and seed treatments. Plots had either subsoil or topsoil, split-plots had either a cover crop, hydrocompost or control, and split-split plots had either treated (seed cookies) or untreated seeds (control).
Seeds or seed cookies were hand-broadcasted on the site. The experiment was irrigated for the first 4 weeks after sowing and no weed management was undertaken in order to mimic potential natural field conditions.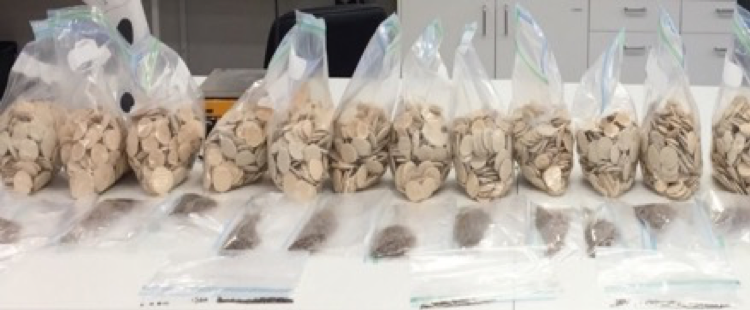 The site was monitored monthly for 10 months to determine seedling density and soil cover of the sown native species.
Expected outcomes
This research aimed to identify site preparation and seed application treatments that could improve the initial phases of seed-based restoration. While glasshouse trials yielded some promising results, overall in field trials extremely low native seedling emergence and soil cover were experienced and various treatments failed to improve seedling emergence. One native species, Bothriochloa bladhii, performed satisfactorily in field conditions and further work should be done on identifying other native species that could perform similarly.  These results demonstrate the realistic challenges presented when trying to restore degraded landscapes.
References
Ryan 2012, Queensland Herbarium, Information Technology, Innovation and the Arts 2012, Technical descriptions of regional ecosystems of Southeast Queensland.
Acknowledgements
Innovative Seed Coating Solutions